Sakurajima Surreal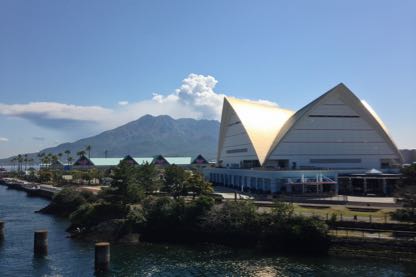 (In English below.) Sakuradžima 桜島, aktivní sopka, a původně také ostrov, na úplném jihu Kjúšú, kde se pěstují stejnojmenné obří ředkve. Zvláštní místo.
Sakurajima 桜島, an active volcano, and a formerly also an island, at the very south of Kyūshū, home to the eponymous giant radish. An eerie place.
You can enjoy bathing your feet in a free foot onsen, stroll leisurly around the no man's island, while smoke is slowly rising from the volcano, Japanese miltary sumbarine is keeping an eye on you, strange men are fishing for kelp and cats are cleaning themselves. Everything is as it should be. Except we didn't see the giant radish in person.
(Pictures taken 2016 March 25.)